Singapore Chinese Chamber of Commerce Foundation
NON-FINANCIAL INFORMATION
Name of Organisation: Singapore Chinese Chamber of Commerce Foundation
Address: 9 Jurong Town Hall Road, Trade Association Hub, #04-01, Jurong Town Hall, Singapore 609431
Singapore Chinese Chamber of Commerce Foundation (Foundation) was incorporated on January 27 1966 as a company Limited by guarantee and not having a share capital. It is an approved institution of a public character (IPC) and its IPC status was extended for a period of three years commencing from 01 January 2021 to 31 December 2023.
Contact Information
Name of Contact Person: Ms Lydia Yung
Telephone No: 6337 8381 (166)
Fax No: 6339 0605
E-mail Address: lydia@sccci.org.sg
Website Address: www.sccci.org.sg
Charity Status
UEN: 196600028C
Charity Regn Date: 07.08.1984
Constitution: Company
Date of Establishment: 27.01.1966
IPC Status
Effective Date: 01 January 2021 – 31 December 2023
IPC No.: IPC000439                                                                        
Members of the Committee of Management (wef March 2022)
Chairman:         
Kho Choon Keng
Vice-Chairmen: 
Ng Siew Quan
Lee Sze Leong
Treasurer:      
Ang Fung Fung  
Committee Members:
Roland Ng San Tiong
Lim Hock Chee
Adrian Peh Nam Chuan
Pek Ee Perh Thomas
Tan Bock Huat
Anthony Tan Kang Uei
Edward Ang Boon Cheow
Chia Kim Huat
Secretary:
Chia Kim Huat
Mission 
To contribute to the community development of Singapore by promoting educational, cultural, community and charitable activities, including raising funds for the restoration and management of the Sun Yat Sen Nanyang Memorial Hall. 
宗旨  
推动教育、文化、社区和慈善事业,为我国社会发展作出贡献,并为孙中山南洋纪念馆筹募资金作修复和管理之用。
Vision
To foster a cohesive, compassionate and culturally vibrant society through the provision of funding for meaningful educational, cultural, community and charitable causes and projects.  
愿景
通过资助具有意义的教育、文化、社区和慈善项目与活动,培育充满凝聚力、富有爱心和活力的优雅社会。 
Programes/Activities (on-going)
The Foundation will continue to promote educational, cultural, community and charitable activities in the fulfillment of its objects. The major activities for the next five years are as follows:
1) Fund-raising activities for Sun Yat Sen Nanyang Memorial Hall.
2) Provision of scholarships/endowment fund to undergraduates in MBA/Business Studies courses or Chinese Language / Culture courses from the five local universities.
3) Provision of funding for SCCCI's historical / cultural research projects.
4) Provision of training/educational grants to Small and Medium Enterprises (SMEs) and their employees in line with the government's policies and schemes on the development of SMEs.
5) Organising suitable and innovative events to support the Speak Mandarin Campaign and promote greater appreciation of Chinese language and culture.
6) Supporting and participating in various on-going and new cultural, educational and community engagement events to promote inter-ethnic understanding, cross-cultural appreciation, community cohesiveness and a pro-family society and assist new immigrants to integrate into Singapore's society.
The above list of activities is non-exhaustive and will be reviewed and improved on to meet the changing circumstances of our dynamic society as and when necessary.

FINANCIAL INFORMATION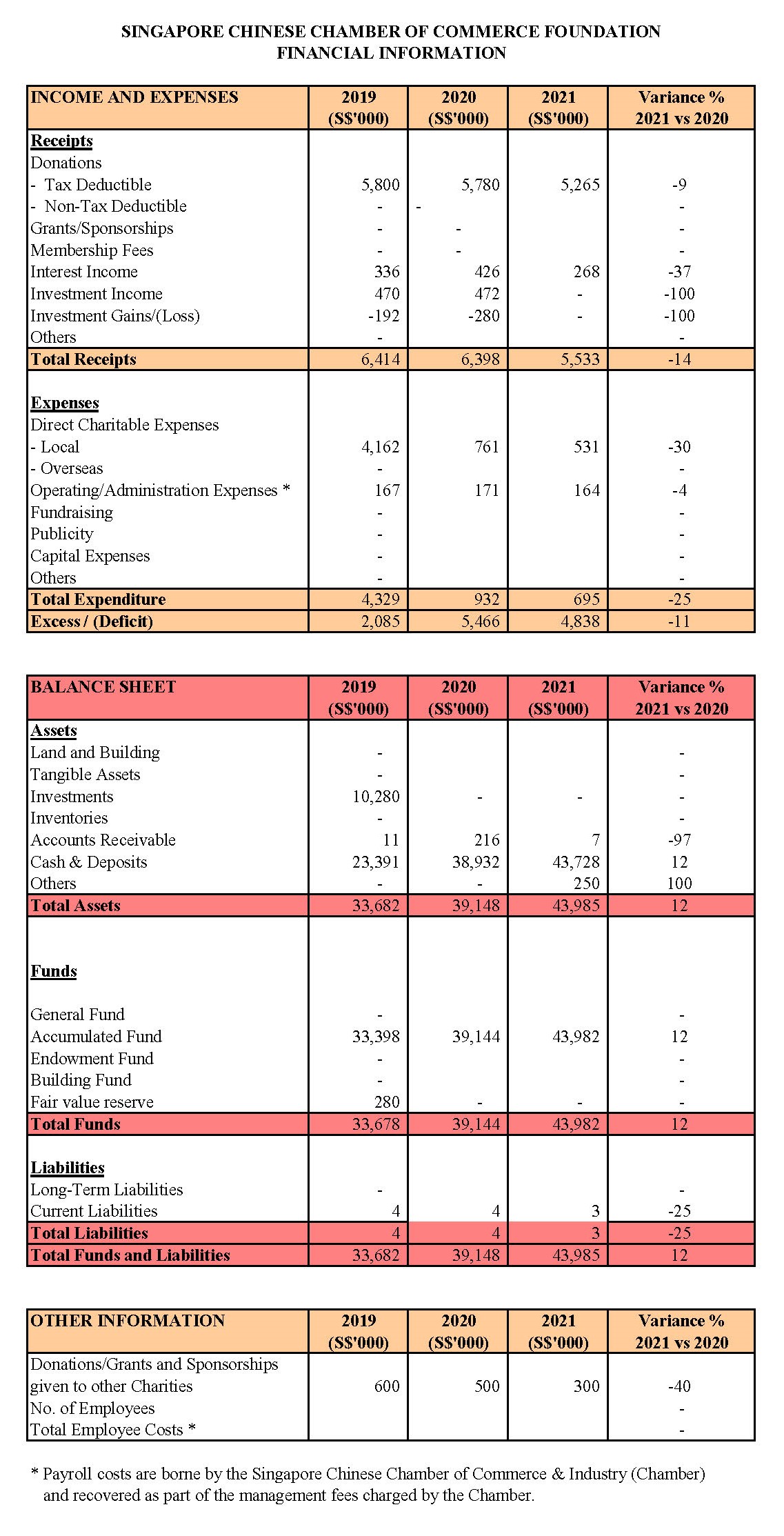 To make donations, please make your cheque payable to "Singapore Chinese Chamber of Commerce Foundation" and mail it to: c/o Singapore Chinese Chamber of Commerce & Industry, 9 Jurong Town Hall Road, Trade Association Hub, #04-01, Jurong Town Hall, Singapore 609431.