Kickstart Your First Live-Stream to Sell Online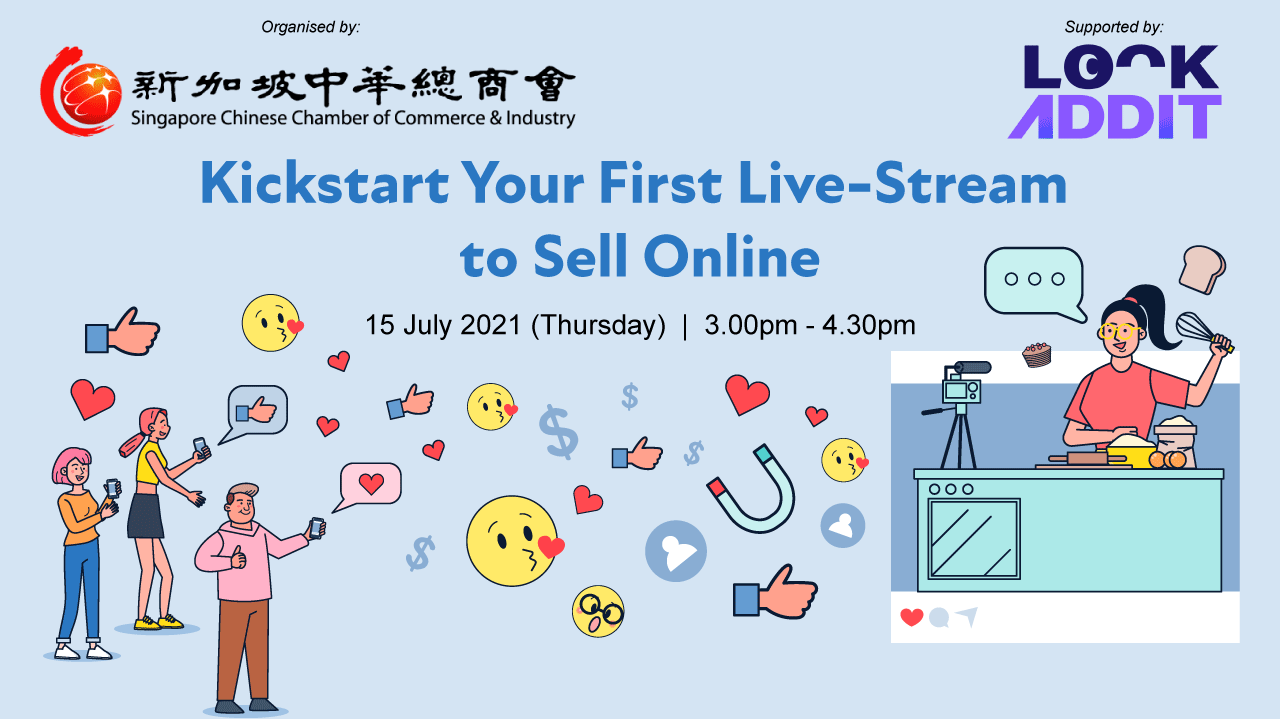 Non-Member Price: Free
Member Price: Free
Live-streaming is the latest trend in eCommerce. With stellar live sales records and high levels of customer engagement from brands who have already jumped on the bandwagon, are you ready to reap the opportunities this new direct sales channel offer?

Experience the appeal and excitement of a live show as you join us in this livestreaming starter session. Find out what you need to prepare and expect before committing to live commerce, as well as tips and tricks to get started and excel on your first live show.
Webinar Outline:
Why should we do live streaming/ selling?
How do we get started?

Pick your choice of poison - different platforms have different commission structures
Understand the mechanisms of a live show
Compare difference in time and money for different show types or production methods

Case studies

Current landscape
Why live selling is so intimidating and Why is everyone doing it?
What makes a successful live show?
What do you need to do before a show?

Digital business strategy
Brand objectives
Marketing strategy
Logistics, fulfilment and communications
Do's and don'ts during a show

Pre and post show campaigns to ensure viewership
Marketing techniques and pre-show readiness checklist
Closing the sale
Best Practices
How to make shows better and better

Bonus: How to pick a host? + Production Dos and don'ts (by mystery guest)
What can Lookaddit do for you?
Speakers:
Linda Ang, Head of Business Development & Partnerships, Lookaddit
Linda spent about 10 years living and working in 7 other cities in Asia and Europe. Through her stints in Investor Relations and Equity Capital Markets, she became familiar with both corporate developments and the dynamics of financial markets, while learning different cultural practices. Upon returning to Singapore in June 2015, she has been actively involved in the start-up and innovation scene as a consultant and investor, helping companies strategise, expand and grow. She is now working alongside Terence and team to help retailers and brands formulate their O2O strategy via digitalisation and creation of online sales channels.
Terence Yow, Founder, Lookaddit
Since 2009, after 14 years of corporate MNC experience in Procter & Gamble, Terence founded and is Managing Director of the Enviably Me Group of Companies who is the exclusive distributor of the Melissa brand of fashion footwear in Singapore, Malaysia and India. He also started LOOKADDIT StreamCommerce Platform business in 2020. Terence is Chairman of SGTUFF Co-operative Limited since 2021. SGTUFF is the acronym for Singapore Tenants United For Fairness and is a collective of SME tenants in retail, F&B and services business advocating for fairness and better balance in landlord-tenant relationships. He is also the Chairman of Odyssey Dance Theatre, one of the leading local dance companies with over 20 years of history in promoting arts and culture in Singapore.
For queries, please email Emelyn at emelyn@sccci.org.sg.