Building Resilience into your Business: Purpose, Stakeholder Partnerships and Impact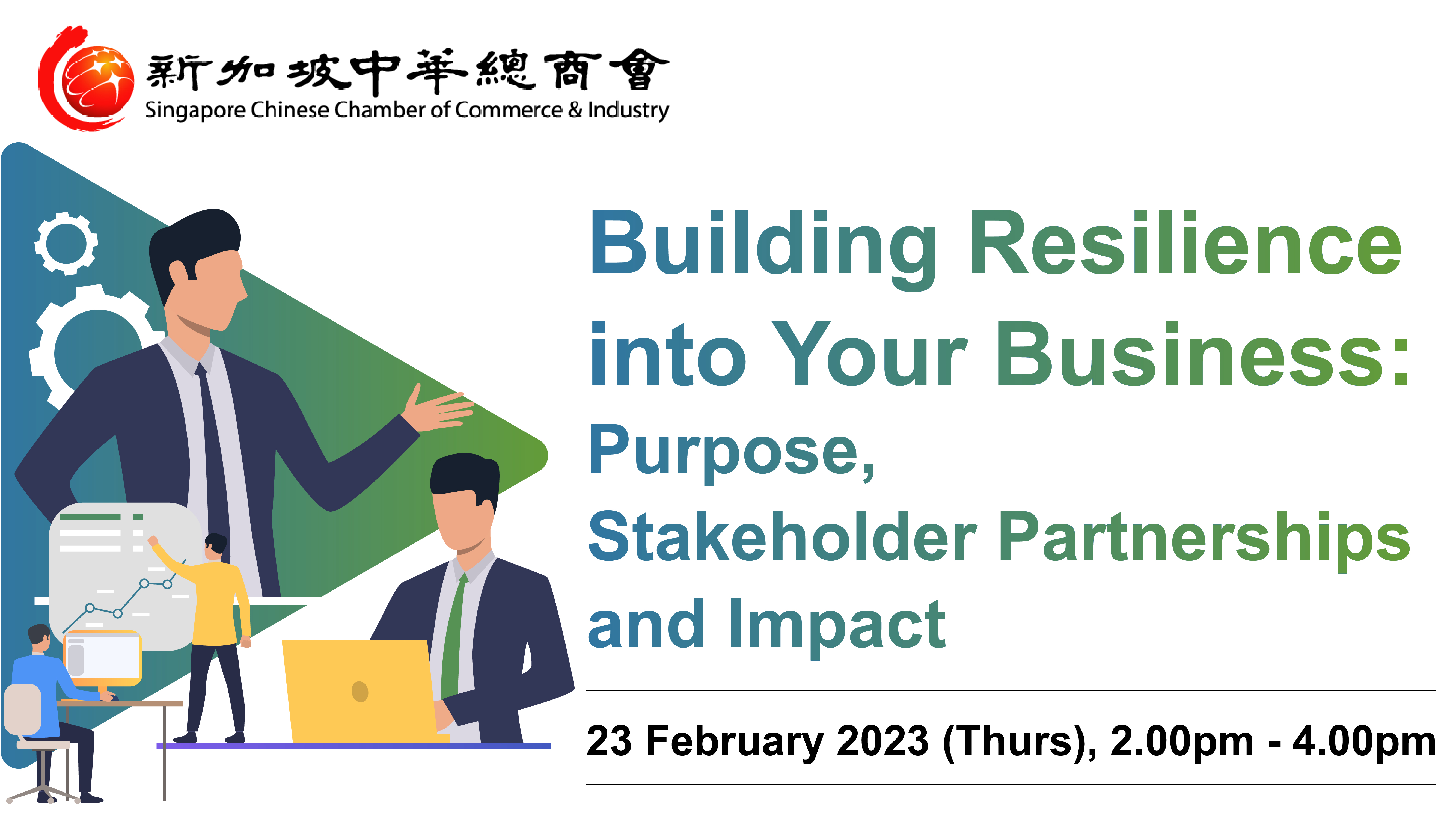 Non-Member Price: Free
Member Price: Free
What does resilience mean to your business?
"It is not the strongest of the species that survives, nor the most intelligent. It is the one most adaptable to change". Leon C. Megginson
This well-known paraphrase sounds simple, but many businesses, despite adapting in certain ways, are struggling to find a space for themselves in the wider market.
With the term agile-organisation firmly established in the awareness of many modern organisations, it might be tempting to believe that this methodology alone can (and should) sustain a business through the challenges we experience today.
But what if we told you that there are additional ways to create a resilient organisation and more value for your customers and stakeholders? Rather than solely- the race to the bottom with pricing, the neck-breaking speed at which customers demand a response or their orders delivered, the expectation of the most advanced perfect digital experience- always, and the constant unsustainable pace of working.
The opportunities for keeping up through your products and services, maintaining a strong, consistent customer base, streamlining your operations, whilst attempting growth are often reduced to few key but rather limited strategies to create a competitive advantage; but there are other ways to differentiate and create longer term resilience.
Those adopting these other strategies are ahead of the curve.
A shift to investing into the intangible aspects- through new practices, new ways of working and new mindsets are shown to create the resilience and value needed for the new operating system post Covid.
In this session, participants will:
Learn about the importance of purpose as their north star.

Identify a broader group of stakeholders to find new ways to create shared value.

See how material issues are fundamental to their long-term resilience.

Be introduced to a structured approach to building holistic, whole, engaging relationships with stakeholders.
FACILITATORS
MARISA AGRASUT
Managing Partner/Director/Consultant, The Inceptery Pte Ltd.
For the last 18 years, Marisa has been working with teams helping them understand, apply and leverage tools, frameworks and methodologies to optimise value creation. From consulting to co-creating, working with Fortune 500 companies such as Unilever, AIA, Savills to national ministries and non/not-just-for-profits.
In 2009, Marisa discovered her inner entrepreneur - embarking on her first - people, planet, profit business model venture, at the time challenging the negative perception of plant-based diets; enabling reduced-carbon and responsible consumption through a (then) pioneering circularity, systems-thinking, and purpose-led business.
In 2016 she co-founded The Inceptery, a sustainability led innovation firm.
A graduate in Strategic Design Management, she harbours a lifetime fascination with the power of externalising creative processes collectively to help sense-make, gain insight, find needs, opportunities and originate ideas; to bring about new consciousness, solutions, businesses and technology to improve human-planetary conditions profitably.
ANNA ITKIN
Managing Partner/Director/Consultant,The Inceptery Pte Ltd.
With over 19 years of scientific research in academia and industry, Anna has gained extensive experience in innovation, systems thinking and cross-disciplinary work. Her life journey has taken her across the globe, adding a strong intercultural perspective and ability to her work.
In 2016 Anna co-founded The Inceptery – a sustainability-led innovation firm focusing on business model innovation and looking to address the ever more pressing need for businesses to simultaneously become economically, socially, and environmentally responsible, resilient and regenerative, thereby creating a long-term positive impact and resilience.
Anna is an eternal student continuously learning and developing herself in various areas that she believes are important for personal growth and professionalism.
About The Inceptery:
The Inceptery is a sustainability-led innovation firm based in Singapore with global reach. Our mission is to challenge, inspire, lead and support organisations to connect their businesses, activities and practices to successfully integrate core principles of social and environmental purpose profitably. As enablers, facilitators and practitioners we help businesses and teams to experience and understand how innovation as a strategic imperative can create value for all stakeholders - people, planet and profit as one.
www.theinceptery.com
______________________________________________________________________________________________________
This is an in-person workshop held at SCCCI, 9 Jurong Town Hall Road, #04-01, Trade Association Hub Jurong Town Hall, Singapore 609431.
Please click on the "Join this event" button below to register.
If you have difficulty registering via the button below, kindly register at https://forms.gle/UEcn9LuKPUjaUZx86.
Participants will receive more details via the confirmation email sent at least 3 days prior to the event day. For issues and queries, please email Faith at faith@sccci.org.sg.