Formulate Your Blockchain Strategy: Tokenisation & Smart Contracts
Workshop Outline:
"There is a lot of hype and attention on Blockchain especially with the huge losses suffered across all forms of cryptocurrency. However, behind all these setbacks, lies huge opportunity in the 2 aspects of Blockchain – Tokenisation & Smart Contracts. The blockchain industry is expected to survive the onslaught and re-establish its credibility with real case scenarios revolving around these 2 areas.
Participants will learn about tokenization and smart contracts, and draft their own business strategy to leverage on Blockchain."
Key Workshop Take-aways:
What a tokenised economy is all about
How tokenisation can be used as a basis to create and structure different business models
Understand the "ins and outs" in formulating Smart Contracts
Understand the common challenges faced in blockchain implementations and some useful tips to overcome them.
Who Should Attend:
Any Business Owner or Management Representatives exploring blockchain for their business.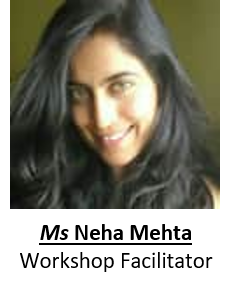 Neha Mehta is Founder of FemTech Partners and world top Fintech 50 International Panel, 2019. A consulting company based out of Singapore; helping fintech start ups get a foothold in Asia and to promote Women in Fintech; Neha is a recipient of the Nav Shakti  Award at 11th National Women Excellence Award 2018, conferred by the Indo European Chamber of Small and Medium Enterprises (IECSME); for her contribution for empowerment of women. Neha is also the Founder of the ASEAN Women in Payments Network (AWPN).  In  her  previous  role,  Neha worked to deploy Blockchain technology for financial inclusion in areas such as payments, remittance  and  micro-loans/insurance  to  help  world's  2  billion  unbanked  people. Neha is Global People's Fellow 2018, an initiative by the United Nations towards fulfilment of SDG's.
Neha represents Singapore and is working towards Financial Inclusion; she will be attending UN General Assembly in September. Neha is a Chevening Financial Services Fellow, 2017 and studied financial risk management at Kings College, London.  Neha is a Lawyer and has worked in different areas of finance such as hedge funds, private equity, venture capital and been recently focusing on Fintech. Over the last five years, Neha's work has centred on lobbying with financial regulators across ASEAN region.
Contact Mr Chris Foo at: chris@sccci.org.sg or 6430 8371 for further enquiries.