Go Digital with eCO, 20 June
Due to overwhelming responses, we have opened another session on 11 July. Kindly register via the banner below.
Go Digital with eCO:
Join us at our upcoming Wokshop
CertOfOrigin is a web-based Certificate of Origin (CO) application and certification system. It provides a single interface of exporters to apply for CO conveniently. 
With CertOfOrigin, exporters can submit applications for CO from any computer. The integrated, electronic application process liberates the exporters from the manual tasks of submitting numerous supporting documents, physically monitoring the application status, and dispatching the document to the relevant parties after collecting the CO from the Authorised Organisation (AO). The entire process is reduced from weeks to minutes, resulting in significant time and cost savings. 
What's more, it also allows: 
Banks and Agents to declare and submit COs on behalf of their shippers for approval by Authorised Organisations (AOs) 
Exporters, agents and banks are able to submit applications electronically from the comfort of their office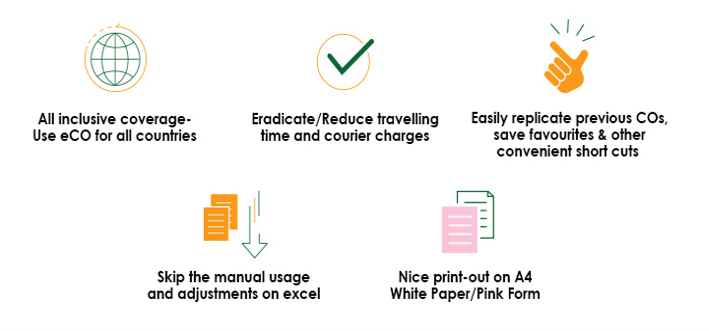 Key Takeaways:
Overview of eCO
System benefits and its key features
End to End Services offered in eCO
Introduction of CertOfOrigin
LIVE demonstrations including the newly launched Pink Form
                                                                   ... and more!
Programme may be subjected to change nearer to date. Please look out for a confirmation email sent 1 week prior to the event.