The Future of Work in Retail
*Due to overwhelming response, participants from the retail sector will be given priority in attending this seminar. Registration will be subject to review, please look out for confirmation email 1 week prior to event. *
Retail organisations today face a pressing need to evolve their business operations as they are thrust into competition with both traditional brick-and-mortar outfits and e-commerce players, amidst efforts to provide personalised solutions and meet rising consumer expectations. At the same time, a tight supply of labour and evolving employee expectations call upon organisations to develop compelling value propositions in order to compete in the war for talent.
This accelerated business environment creates the imperative for organisations to continually improve their labour productivity and workforce capabilities. Job Redesign presents an opportunity to aid organisations in light of such complex business changes – urging organisations to re-examine their organisation structures and processes, catalysing conversations on technology adoption, and providing a gateway to capability building within the organisation.
Key Takeaways
In this seminar, you will hear about the latest workforce and business trends that are impacting the retail landscape, and how jobs in the industry would evolve resultantly. You will be introduced to job redesign, its importance in today's context, and learn about how other companies have successfully redesigned jobs in their organisations.
Speaker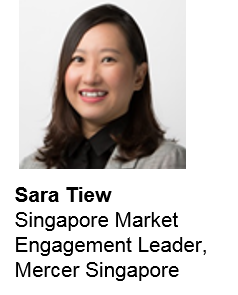 Sara oversees the Public Sector business across all Career solutions in Singapore. She has led multiple complex projects for various public sector organisations and private sector organisations covering a breadth of subject matters such as job redesign, workforce planning, employee value proposition, employee rewards, performance management, organisation design, HR program/policy design, and, job evaluation. Notably, she has led recent job redesign projects as Project Manager for SNEF on developing a job redesign toolkit to create meaningful employment opportunities for the silver workforce, as well as for ESG/WSG on job redesign for the retail sector. Sara brings more than a decade of consulting and practical HR experience and she started her career as a HR practitioner prior to joining Mercer. She is passionate about job design and its application to create a more inclusive and productive work environment in Singapore.
Registration
A confirmation email will be sent 1 week prior to the event.
For enquiries and/or register via email, please fill in your details in the format below and send to emelyn@sccci.org.sg.  
Event: The Future of Work in Retail
Session: 9.00am – 1.00pm
Name:
Email:
Mobile Number:
Designation:
Organisation:
Business Sector:
* Please delete accordingly.