善加利用全渠道信息的威力
In this mobile driven era, businesses gain a competitive advantage when they have the ability to reach their target audiences wherever they are, even on their mobile devices. However, it is also crucial for your workforce to be able to effectively utilise this ability using mobile and email messaging tools. In Walkers Customer 2020 report*, personalization, ease, and speed will be the key expectations from customers. Meet the challenge today and outperform your competitors in delivering great customer engagement.
Take part in this workshop and discover how to reach out and communicate with your staff or customers in a matter of seconds with SMS broadcast. Gain new customers, introduce new products or services with email broadcast tool that has advanced features like personalization and scheduling.
Businesses who have embraced digitalisation as part of their strategy project a 26% growth in their revenue**, and over half of SMEs have plans to digitalise their businesses to stay ahead. Stay ahead of the game with StarHub - find out how at this workshop!
*https://www.walkerinfo.com/Portals/0/Documents/Knowledge%20Center/Featur...
**https://news.microsoft.com/en-sg/2018/10/23/singapore-smes-who-embrace-d...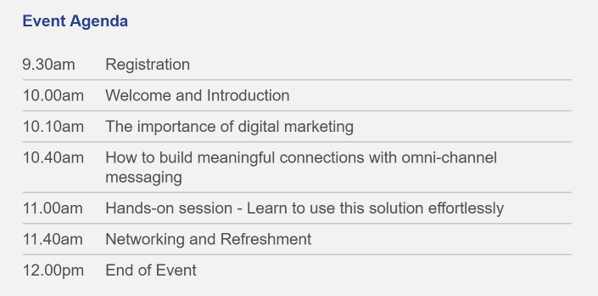 NOTE: Participants are to bring their own laptop for this workshop. 
Priority will be given to Non-ICT company representatives. 
To register, please submit an online registration through the SCCCI website: https://www.sccci.org.sg, or email your details to chengteng@sccci.org.sg in the following format.  
Event: Harness The Power of Omni-Channel Messaging
Name:
Email:
Mobile Number:
Designation:
Organisation:
Business Sector:
Membership: SCCCI Member / Non-Member *
Membership Number if member:
Payment Mode: SCCCI voucher, cash/mobile payment or cheque *
* Please delete accordingly.
Programme may be subjected to change nearer to date. Please look out for a confirmation email sent 1 week prior to the event.