Recession not upon us, but forces of change are
Do not panic, reshuffle your business, dodge the punch and aim your strike.
Three economists from Singapore's top banks gave these advices to local enterprises at a recent SCCCI-organised forum, as they predicted a recession in US could be one to two years down the road and affirmed that China is already in a gradual slowdown mode – both fallouts from the China-US trade tensions.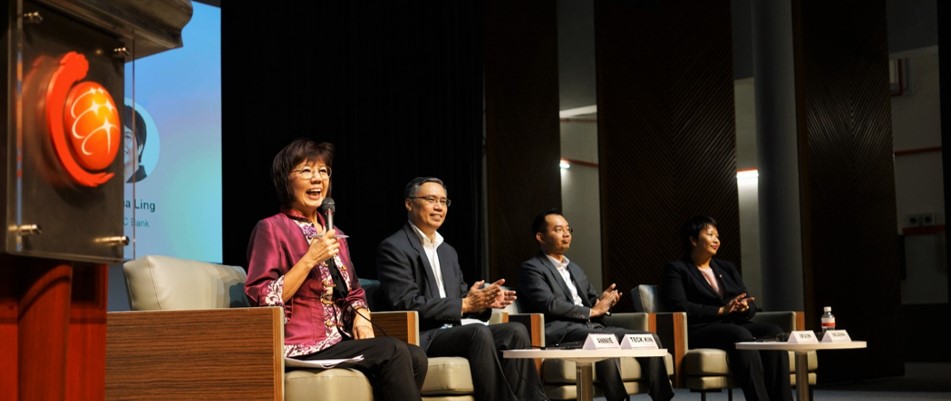 Fortunately, global recession is not in sight, and would cause less harm if our businesses have strategically shifted their stakes and re-adjusted to the new ball game beforehand.
As the world's trade order is being shaken up, Singapore businesses need to reinvent themselves and quarry for new opportunities, the speakers told the 250 or so attendees at the "Annual Business Outlook" forum featuring this year the theme "Rising to the challenges of a world in transition".
That is, essentially by digitalising and innovating operations and by moving supply chains and markets away from the US and China to other emerging, fast-growing destinations
"We must prepare ourselves for the long haul," said Mr Suan Teck Kin, UOB's head of research in global economics and markets research, expecting the trade war not to end any time soon.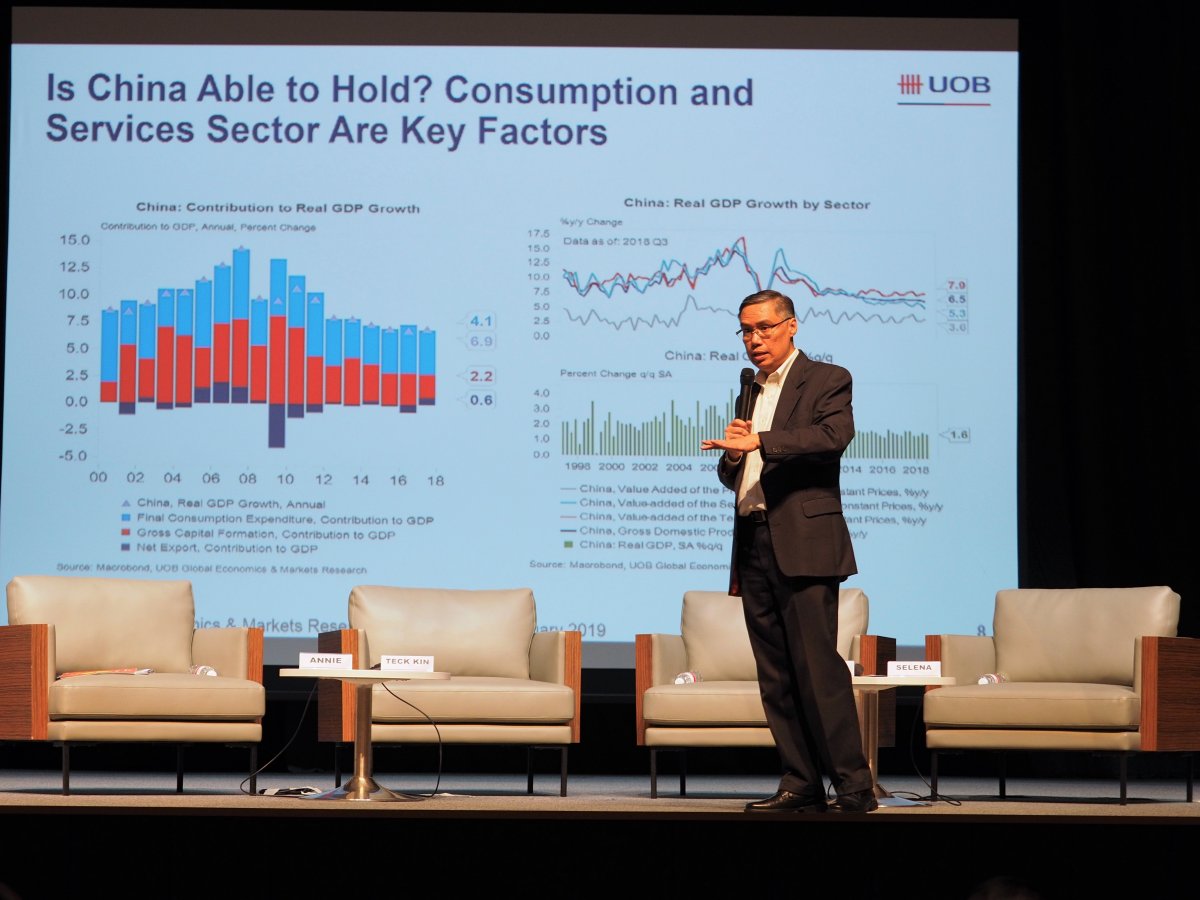 He pointed out that Asean, being the world's third largest trading bloc with a trade volume of US$2.6 trillion in 2017, would be the next region of GDP surges as China's economy matures and becomes more self-driven.
Also, Asean is a collection of young and energetic populations, with the total number projected to hit 749 million in 2030 - an ideal replacement as the Chinese engine gears down.
Mr Irvin Seah, the executive director of DBS Group Research, expects to see more hikes in the US Fed rates and continued volatile movement of global oil prices in 2019.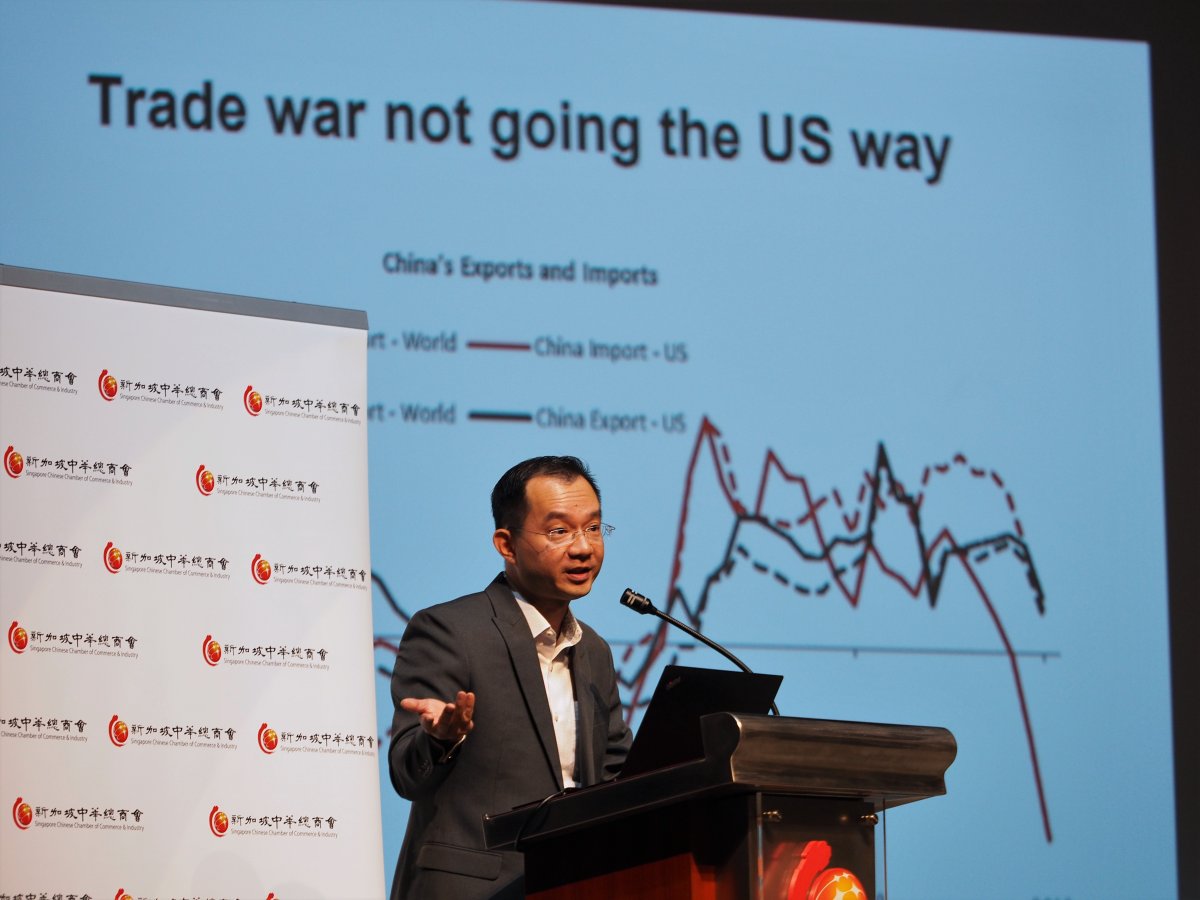 Singapore's inflation has also risen to a higher but still relatively low 1.8 per cent.
Amid these uncertainties, Singapore's GDP is expected to grow at a subdued 3.0 per cent this year as compared to 3.3 in 2018, with the service sector also feeling the drag.
However, the choppy waters notwithstanding, Mr Seah sees Singapore as having many strengths to count on, particularly its fiscal health.
The real worry, according to Mr Seah, is that all the gloomy talks circulating around the world about an impending global recession might psych businesses - most worryingly those in the US - into cutting back on investments and spending, leading to a self-fulfilling prophecy.
The economist also takes a longer view, advising Singapore's SMEs to venture into Asean countries not just because the global tide is changing, but more crucially because Singapore's society is aging rapidly, with its median age already exceeding 40 years old.
As MNC investments might dwindle in Singapore as our work force grows old, SMEs could move up to be our main driver of growth, urged Mr Seah, envisaging a new age where SMEs would be the key funder of Singapore's social spending with the corporate tax revenue they repatriate home.
"We could borrow growth from the region," he quipped.
He also called on trade associations to jointly set up representative offices in the respective Asean countries to help our SMEs settle in as well as link up with local partners.
"In some areas B2B could do better than G2G."
Mr Seah suggested the government, in its joint loans with banks to SMEs, shell out more than its usual share to enterprises which show good potentials but have no high financial standing with the banks.
"Banks themselves tend to look for minimum risks and highest returns."
Mr Seah also noted that up to 70 per cent of those who have been retrenched in Singapore in recent years are professionals, indicating that the group have become a vulnerable class and those affected need to acquire new relevant skills.
The government would do well to postpone income tax payment for these people, added Mr Seah.
Concurring, Ms Selena Ling, OCBC Bank head of treasury research and strategy, said job seekers without coding experience now find it harder to get themselves hired.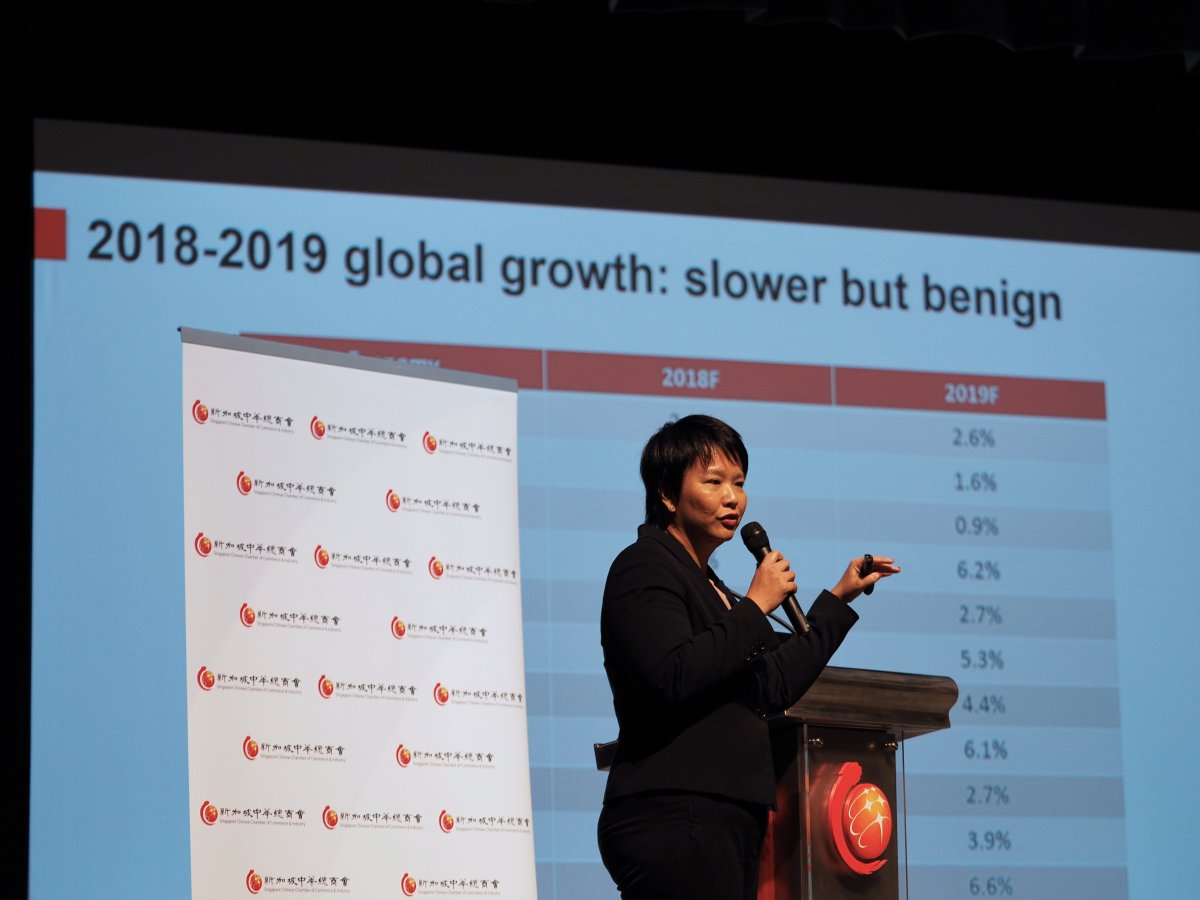 Like her fellow panellists, Ms Ling expected a "continuity budget" when Finance Minister Heng Swee Keat announced the 2019 plan next month, which she said is not likely to contain "big surprises".
But the economist advised that more support be given to SMEs and urged a re-think on the current healthcare system, which is apparently not sufficiently prepared for the aging trend.
Evincing optimism, Ms Ling described the global slowdown in 2019 as benign, partly because China, the world's biggest growth contributor, is "landing smoothly".
And it remains to be seen whether the monetary tightening in the US would have little repercussions as a "normalisation" after a long period of low Fed rates.
Also, world developments might go anyway moving forward, especially with US President Donald Trump facing possible impeachment, in which event he might tactically reduce trade tensions with China to save his political life.
But, as of now, weak sentiments from the trade war weigh down on Singapore's local SMEs and only 40 per cent of them expect turnover growth.
"One way for the SMEs to dodge the hits from the enduring trade war is to digitalise and internationalise," said Ms Ling.
"Whether a company wants to unleash its potentials depends ultimately on its mindset," stressed UOB's Mr Suan.