Business Mission to Philippines, Manila

Targeted Industry: Consumer Services
Targeted Audiences: CEOs, COOs, Senior Management who wish to explore Philippines's market
The economy of the Philippines is the 3rd largest economy in the ASEAN after Indonesia and Thailand. With the Philippines' economy expanding and among the top three growth performers in the East Asia region in 2017, the mission to Philippines in 2019 is timely to renew business relationship and pay visits to the local Philippines local Chambers of commerce, government agencies and enterprises, and promote two-way business exchange and cooperation.
The Singapore Chinese Chamber of Commerce & Industry (SCCCI) will be organising a 4 Days Business Mission to Philippines targeting at the consumer market to explore and understand the opportunities of the growing consumers' consumption market with the following objectives:-
Gain an in-depth understanding of Philippines consumers' consumption behavioural, trend and their growing purchasing power.

Learn about the investment environment and first-hand information on doing business in Philippines.

Discover business opportunities, visit economic zone projects and local Philippines conglomerates companies.

Network with key government agencies, business leaders and business associations, to understand Philippines's economic & investment climate and polices and find partners for meaningful collaboration between Singapore and the country.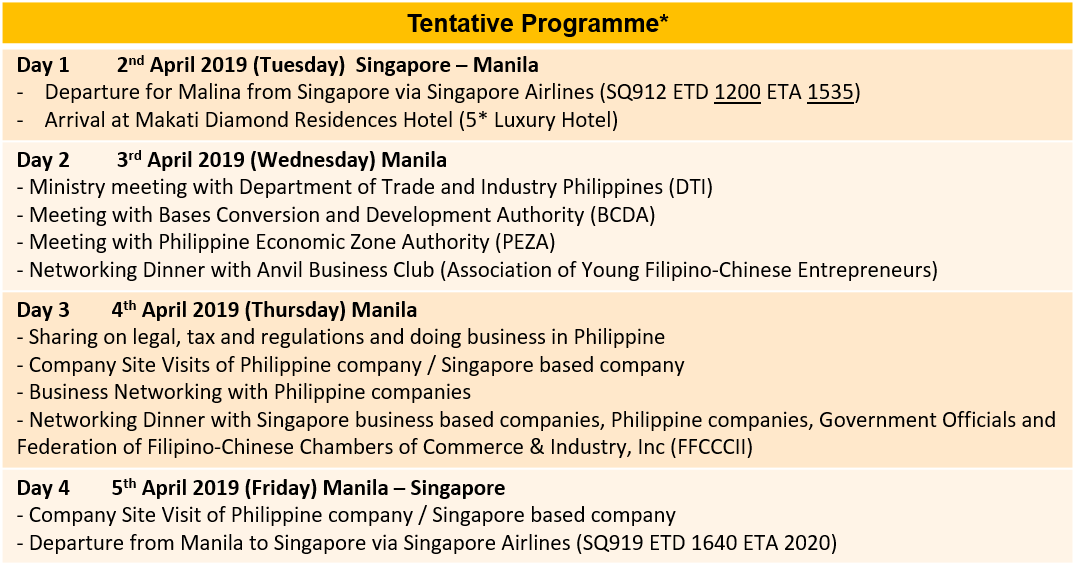 For enquiries, please contact Tiffany Shia at tiffany@sccci.org.sg or 6430 8312