SCCCI Business Mission to China Cities: Nanjing, Wuxi, Hangzhou & Ningbo
Yangtze River Delta Economic Region has always been the biggest and the fastest developing economic zone of China. In 2016, the total GDP of Jiangsu, Zhejiang and Shanghai alone reached 2.2 Trillion US Dollar, similar to that of the whole India.  The region benefits from its geographic advantage with easily accessible transportations, well established infrastructures, abundant man-power resources. The well balanced industrial structure has also made it easy for foreign investors to find suitable projects to invest in. To help Singapore companies better understand Zhejiang and Jiangsu, SCCCI is organise a mission trip to Nanjing, Wuxi, Hangzhou & Ningbo from 29 October to 3 November 2017. 
During this mission, the group will call on Zhejiang and Jiangsu leaders, and meet local government officials. Networking opportunities with business societies and successfully local business men will be arranged as well in the four cities. In Hangzhou, the group will be invited to attend the launching ceremony of SCCCI's Singapore Investment Guide (2017/2018 Edition). We hope this mission will help all participants to find more business leads and potential partners in the future.    
1 Mission Itinerary(Proposed):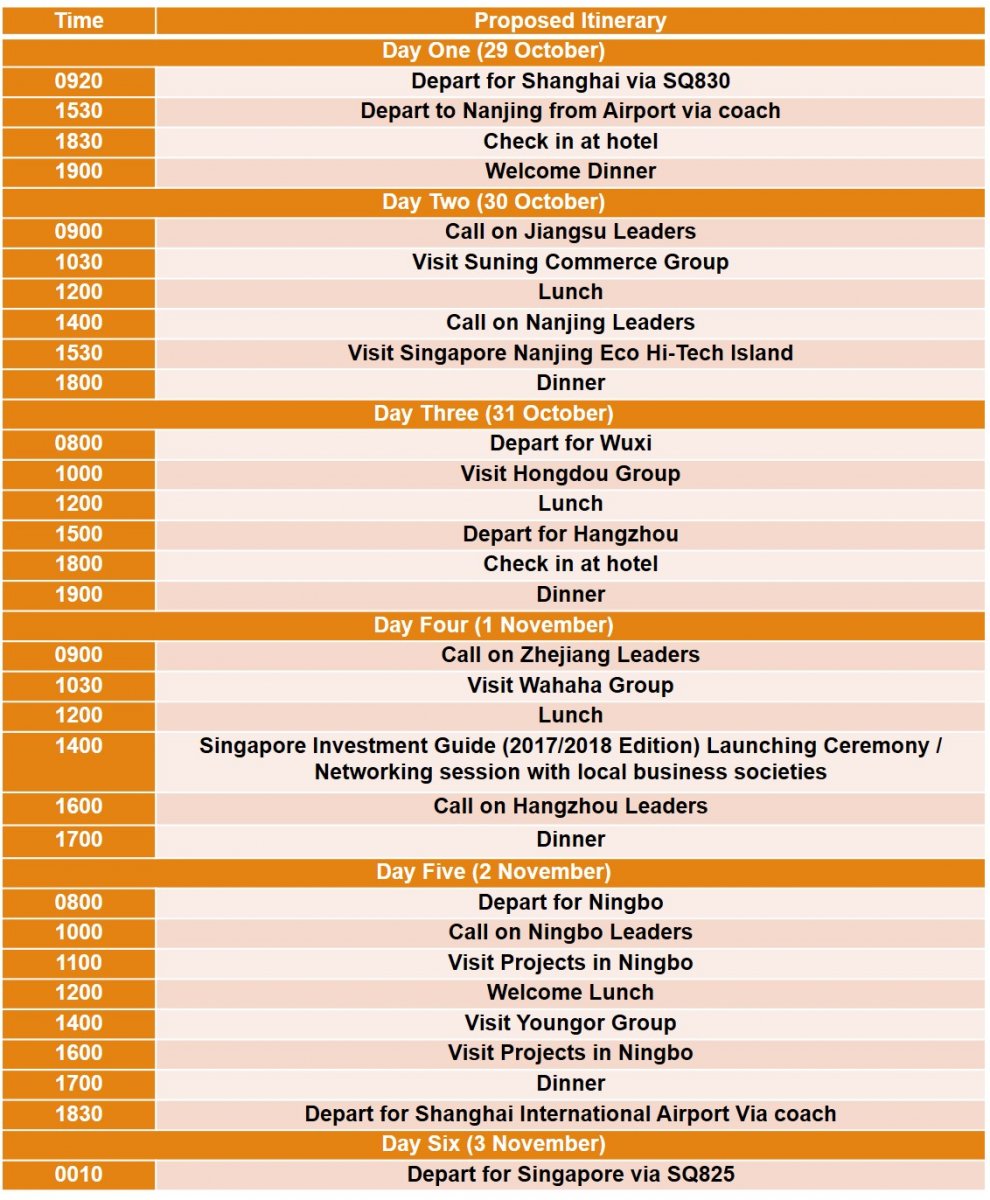 2. Mission group size:
The mission group will be led by SCCCI president Mr Roland Ng and consist 20-30 Singapore company representatives.  We encourage interested party to register with us ASAP.
3. Mission Fees:
Airfare:
The group will depart for Shanghai via SQ830 on Sunday, 29 October (ETA 1425). Travel Media Pte. Ltd. is appointed to help group members with their hotel and air-ticket booking. The travel agent's contacts are: (Travel Media Pte. Ltd,Contact Person:Mr Bob Lee,Tel: 9068 0939 and Ms Sophia Liew,Tel:6292 9202 (Ext. 127),Email: sophia_liew@travelmedia.com.sg) The ticket prices are as below (Inclusive of Tax, excluding Service Fee) Should you wish to book another flight please contact the travel agent directly.
29 Oct, 2017, Singapore / Shanghai (PVG) SQ830V – 0920/ 1435
03 Nov, 2017, Shanghai (PVG) / Singapore SQ825V – 0010 / 0600 
经济舱 (Economy Class): S$ 1705.00 
商务舱 (Business Class) : S$ 4208.00
Accommodation:
SCCCI recommend the group members to stay in the same hotel, fees as below:(per night fee)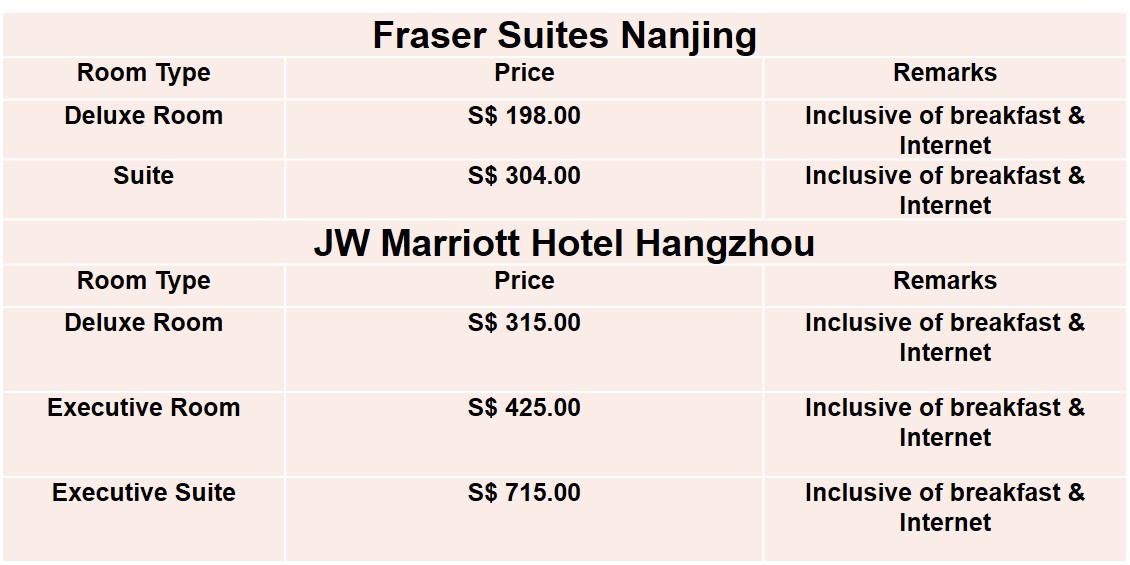 All prices are subject to change without prior notice due to currency fluctuation.
Common Fund:(Used for all land transport, organise networking events, printing of Mission Directory, Purchasing of Mission Gift, Admin Fees and Tips):Per Pax $800.00
SCCCI invites those interested to register with us by completing the attached return slips and Fax/Email back to us at 63390605 by 20 October 2017. For enquiry please email: david@sccci.org.sg / zecheng@sccci.org.sg or call: 6430 8319/6430 8317.