The Path To Extraordinary Productivity
Are You Productive or Just Busy? How to Manage Your Day and Technology?
Each day brings with it a new wave of urgencies that compete for our attention. Texts, emails, calls, meetings and more, all converge on our already full schedules. The result is a sense of being busy without actually being productive, which leaves us feeling burned out and unfulfilled. The sheer volume of daily distractions threatens our ability to think clearly and to make wise decisions about what is important.
This session will empower you with knowledge and tools to avoid distractions and to accomplish the goals that matter most in your professional and personal lives. Supported by research and decades of experience, The 5 Choices not only produce a measurable increase in productivity, but provide a renewed sense of engagement and accomplishment.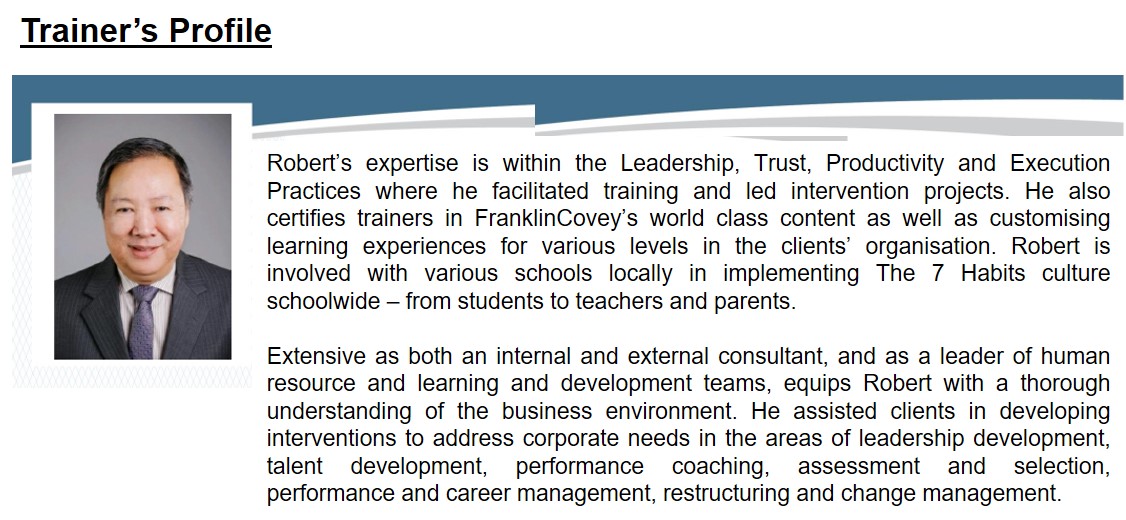 To register, please submit an online registration through the SCCCI website: https://www.sccci.org.sg, or email your details to chengteng@sccci.org.sg in the following format.  
Event: The Path To Extraordinary Productivity
Name:
Email:
Mobile Number:
Designation:
Organisation:
Business Sector:
Membership: SCCCI Member / Non-Member *
Membership Number if member:
Payment Mode: SCCCI voucher, cash/mobile payment or cheque *
* Please delete accordingly.
Programme may be subject to change nearer to date. Please look out for a confirmation email sent 1 week prior to the event.